1999 Aprilia SR50 Racing
(Selling for $2999)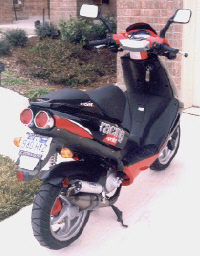 Here are some pics of the Scooter I purchased for $2700 in late October 2000:
SR50 Side View
SR50 Front
SR50 Back
SR50 Dash

Performance Parts Added:
70cc Malossi MHR kit
21mm Dell'Orto Carb (with extra jets)
UK intake rubber
Giannelli Sport Cee Exhaust
DR race clutch (with extra springs)
Malossi front variator (with extra rollers)
Malossi rear torque driver
DR 18% gear-up kit
Kevlar Belt
Red Rear Main Spring (also have white and yellow)
Performance Improvements:
Before any mods, this scooter would go 42-45mph on the flat and 50-51mph max downhill. After 841 miles I decided to hop it up and added all of the above performance parts. I purchased all these parts from Taffspeed Racing (see link below) and spent right at $1100 for them. With these parts, the scooter accelerated at least twice as fast and pulls hard through 60mph. Top speed so far has been 71mph with a slight downhill (and tucked down). It will hold 60mph with no wind sitting upright. The scoot is only slightly over 200lbs so it is very easy to handle. The low profile tires and fantastic suspension help make this scoot a blast to ride. If you are interested in Aprilia scooters join the egroup below. I started this group when I purchased this scoot, and we have over 80 members now!!! There are some REAL die-hard enthusiasts in the group and are very helpful with questions.
Links:
eGroup dedicated to Aprilia Scooters that I started in October of 2000
Taffspeed Racing
More to come.....